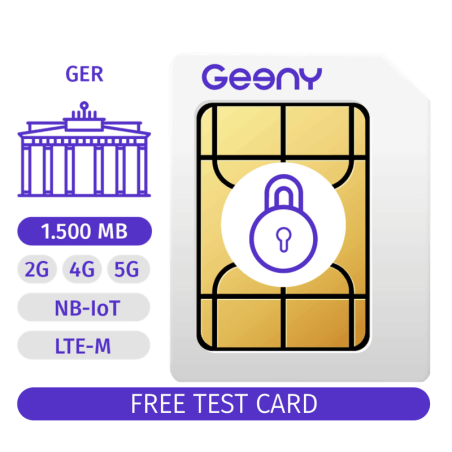  
Geeny Test SecureSIM Germany
Free test tariff
Security and trust are crucial for your IoT business. With Geeny SecureSIM - combined with the Geeny SecureGateway, available in either the AWS or Azure Marketplace - you connect your IoT devices with your cloud securely - carrier grade.
Test SecureConnect free of charge!
Up to 100 SIM cards
SIM card type: Triple SIM
Fee: 0,00 €
Shipping costs: 0,00€
Included data volume: 1,500 MB
Network coverage: Germany
Trial period: 3 months
Privacy policy
Click the icon to view Telefónica Deutschland's privacy policy.
Terms of delivery
You will receive your SIM cards by shipping service provider within a few days after ordering.
You get a SIM card which is able to communicate directly with your Geeny SecureGateway and has no connection to the internet unless you explicitly configure it in your cloud environment on your own. If you need access to the internet, the Geeny SecureSIM cards can optionally be delivered and used without the SecureGateway. You have the choice of three tariffs and three form factors.
Tariffs
Germany: usage possible within the o2 Telefónica Germany network
Form factors
Triple-SIM: standard SIM card combining the form factors 2FF, 3FF and 4FF for usage in almost any modem.
Tariff Germany:
1,500 MB data volume included
3 months trial period
2G, 4G, 5G, NB-IoT, LTE-M supported
up to 75 MBit/s bandwidth